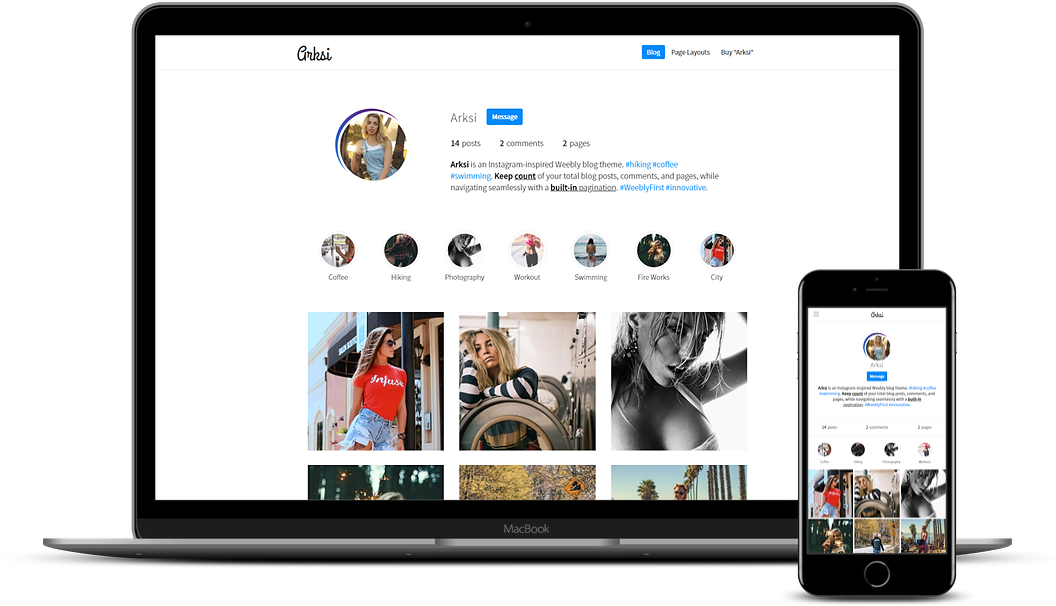 Arksi
An Instagram-Inspired Weebly Blog Theme
$24
For the lovers of Instagram and all things photo-centric, you should consider adding Arksi to your Weebly theme arsenal.
What is Arksi?
Basically Weebly and Instagram had a child, with genes that yielded a built-in numbered blog pagination and blog stats that automatically keep count of your total posts, comments, and pages. Can you say #WeeblyFirst?
Perhaps you wondered what it would be like to mesh Instagram and Weebly together? Well, wonder no more! Today, we here at Themezier give you Arksi, our latest brain child in the Weebly theme department.
Seriously, even we can't believe it, but we did it and now we pass on our innovative Weebly work to you.
So what can I do with Arksi, you may ask? To put it lightly, imagine your Instagram account is your Weebly website. Or imagine your Weebly blog has adopted the styling cues of the beloved social media platform, Instagram.
Arksi is a great tool for the modern blogger, especially the blogger who likes a photo-centric post. It has the tools to keep your visitors interested, but never lost.
From built-in blog pagination -- yes, with actual numbers, so you can skim through blog pages much easier -- to blog stats that let you know, at any given time, how many blog post, comments, and pages your blog has.
Features
100% Responsive

Yes, Arksi is 100% responsive.

Weebly 4's Customizable Header

Weebly 4's customizable header gives you a drag & drop banner area, which you can add a background image or solid background color to. You can also adjust the banner's height, or choose to make the background image parallax, reveal, or a video background (pro accounts only).

Weebly 4's Section Element

Weebly 4's section element allows you to create unique sections within the main content area. Each section is an independent drag and drop area that can be further customized with a background image or color, parallax or reveal effects, and a video background (pro accounts only).

Blog Pagination

Blog pagination appears at the bottom of any main blog page and allows visitors to easily navigate between pages. Arksi's blog pagination, from the current page, allows visitors to easily visit the next 2 or previous 2 pages, the first page, and the last page of a blog.

Blog Stats

Arksi blog stats automatically counts how many posts, comments, and pages a blog has, and displays this information at the top of the blog page within the information section. Blog stats refresh every time your website is published.

4 Color Schemes

Arksi comes with 4 color schemes, 2 light (arksi & instagram) and 2 dark (blue & dark). These can apply these color schemes by going to "Theme" at the top, and then clicking on the color palettes on the top left.

Theme Options

Arksi's theme options allow you to customize Arksi without touching code. These theme options include an accent color, avatar border style (none, half, or full), avatar border gradient color adjustment, turn on/off the category slider, and open/close the automation window.

Category Slider

Arksi's category slider allows you to display up to 7 blog categories directly above your blog posts. The category slider can be shut off by going to "Theme>Theme Options>Category Slider".

Category Crumbs

Category crumbs automatically appear when a visitor visits a blog category page to inform them they're only looking at blog posts within a specific category.

Breadcrumbs

Arksi's breadcrumbs automatically appear at the top of every blog post for easy navigation between pages.

Information Section

Arksi's information section appears at the top of every main blog page and displays an avatar, a name, a call-to-action button, and an about section. Content within the information section can be adjusted under "Theme>Theme Options>Automation [Editor Only]".

2 Page Layouts

Arksi comes standard with 2 page layouts, a header and no header page layout.

Drag & Drop Footer

Arksi comes with a global drag and drop footer (includes free Weebly accounts). Changes made in the footer on one page will automatically reflect on all pages.

100% Support & Free Lifetime Upgrades

As a user of this theme, we've got your back 100%! Though our themes are rigorously tested (they really are -- sometimes it takes days to iron out the bugs), if any issues ever arise with this theme, simply send us a message! You'll also enjoy free upgrades to the latest version of this theme for its lifetime. When new versions are available, you'll be sent a notification and download link via e-mail.
Reviews
Release Date
July 7, 2019
License
Personal, Commercial
Browser Compatibility
Android, Brave, Chrome, Edge, Firefox, Safari, Safari iOS, Opera, Opera Mini