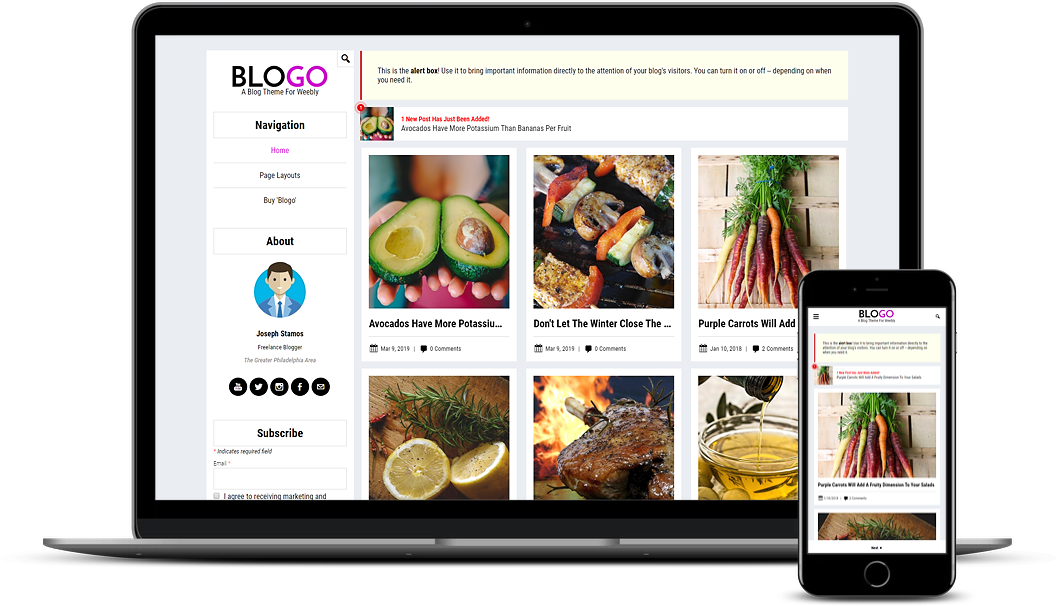 Blogo
​​​A Feature-Packed Blog Weebly Theme
$29
​Blogo is the Weebly blog theme that you've been waiting for!
What is Blogo?
Blogo's mission is to serve as the ultimate Weebly blog theme, as it's packed with features not even available in the Weebly App Center.
​We're talking about a global sticky sidebar that houses the navigation, 2 independent drag and drop areas, and a first, your blog's 3 latest posts (yes, it's automatic like Wordpress).
You'll also find great expression in its dual light and dark versions with the single click of a button. To make it a really cool blog theme, we've added a new post alert -- which displays your latest post at the top of your blog -- an alert box to bring important information to the attention of your viewers, and theme options that include an accent color, blog columns, and mo
Features
100% Responsive

Yes, Blogo is 100% responsive.

Weebly 4's Customizable Header

Weebly 4's customizable header gives you a drag & drop banner area, which you can add a background image or solid background color to. You can also adjust the banner's height, or choose to make the background image parallax, reveal, or a video background (pro accounts only).

Light & Dark Versions

With the simple click of a button, you can change Blogo from a dark theme to a light theme and vice versa.

Accent Color

To complete the light or dark version of Blogo, Blogo comes with an accent color that you can choose under "Theme>Theme Options>Accent Color". The accent color is the color used by the progress bar, buttons, navigation, pagination, social media icons, active links, and the input text color (dark version only).

Global Sticky Sidebar

A global sticky sidebar appears on all page layouts of Blogo. Any changes made to the sidebar on one page will automatically reflect on all pages of your site. The global sticky sidebar sticks as a visitors scrolls up and down your page. It also houses your site's menu, 3 latest blog posts, and 2 independent drag and drops areas.

Progress Bar

Just like YouTube, Blogo has a progress bar that shows at the top of each page to indicate the loading progress. The color of the progress bar can be changed under "Themes>Theme Options>Accent".

Alert Box

The alert box is a "Click Here To Edit" text box that allows you to bring important information to the attention of your site's visitors. The alert box can be turned on or off under "Themes>Theme Options>Alert Box".

New Post Alert Widget

To let your visitors know you've just published a new blog post, the new post alert feature automatically displays the first image in your latest blog post, its title, and an animation notification icon to grab their attention directly above your blog. The New Post Alert widget can be activated under "Theme>Theme Options>Automation [Editor Only]>Blog Url". It can also be turned on or off under "Themes>Theme Options>New Post Alert".

Google Custom Search Ready

Blogo is Google Custom Search ready. This means if you want to use Google Custom Search on your site, you just need to add your Google Custom Search's "search box" code in the drag and drop search box. The styling of the Google Custom Search will be determined by the theme.

Slogan

To keep with your brand's image, beneath the logo is a "Click Here to Edit" text box for a slogan. The slogan will appear beneath your logo on desktop, tablet, and mobile versions of your site.

Automation

The automation setup can be found under "Theme>Theme Options>Automation [Editor Only]. It allows you to setup the "Latest Posts" and "New Post Alert" widgets.

Theme Options

Theme options make it easy to customize Blogo without touching any code. Blogo's theme options include accent color, alert box, new post alert, animate posts on hover, blog post columns, the thumbnail height of blog posts on the blog's homepage for desktop, tablet, and mobile versions of the theme, truncate blog post titles on the homepage and within the Latest Posts widget, breadcrumbs, and automation.

Breadcrumbs

Oh, yes we did! Blogo -- since it's a blog theme -- comes with breadcrumbs (blog pages only) to help keep your visitors' navigation on track. Once a visitor to your blog clicks on a blog post, the title of that blog post will automatically appear at the top of the page, along with the title of your blog for easy navigation.

Latest Post Widget

Your blog's 3 latest posts will automatically display in the global sticky sidebar. The Latest Posts widget can be activated under "Theme>Theme Options>Automation [Editor Only]>Blog Url".

2 Page Layouts

Blogo comes standard with 2 page layouts, a header and no header page layout.

100% Support & Free Lifetime Upgrades

As a user of this theme, we've got your back 100%! Though our themes are rigorously tested (they really are -- sometimes it takes days to iron out the bugs), if any issues ever arise with this theme, simply send us a message! You'll also enjoy free upgrades to the latest version of this theme for its lifetime. When new versions are available, you'll be sent a notification and download link via e-mail.
Real Sites Created with Blogo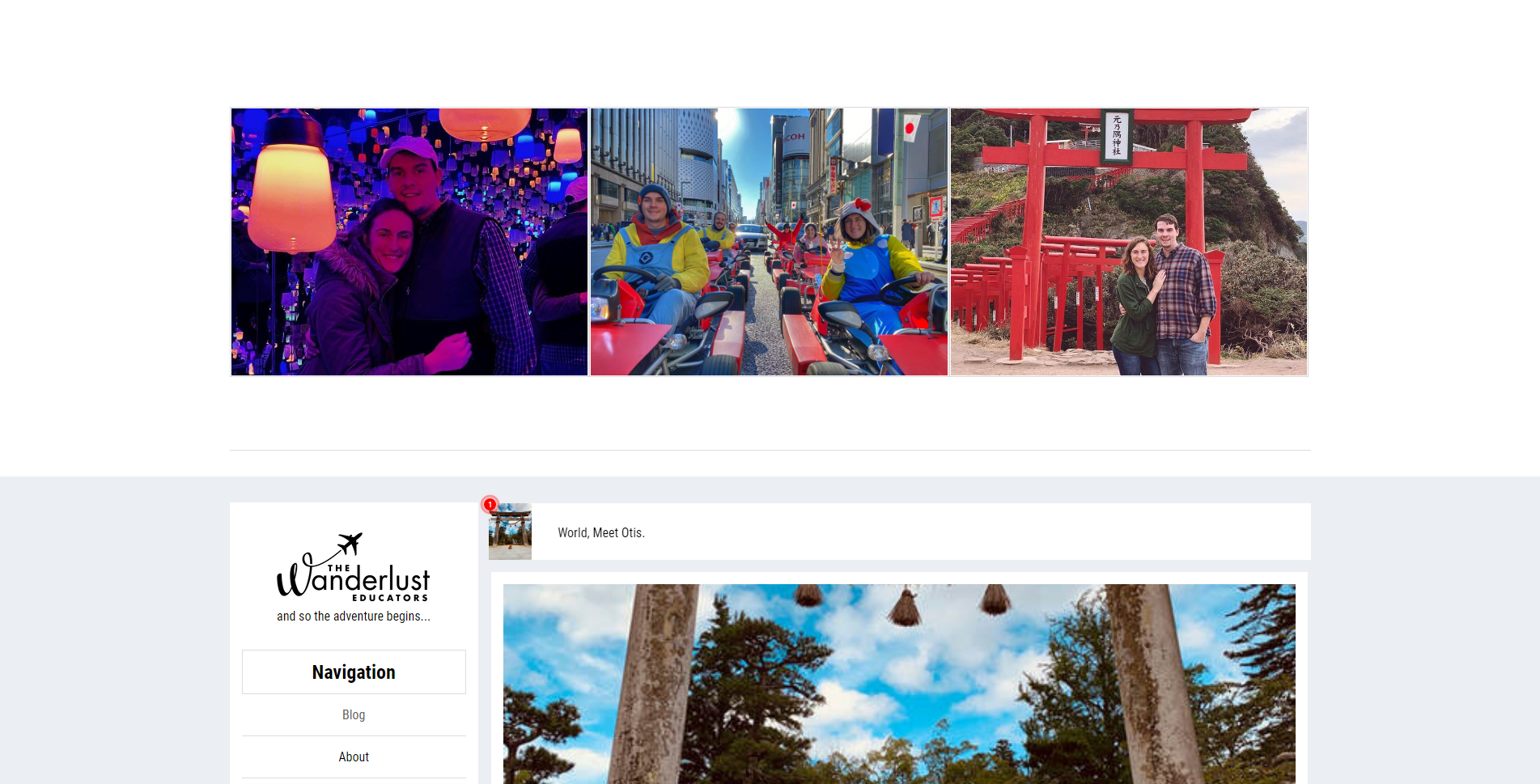 The Wanderlust Educators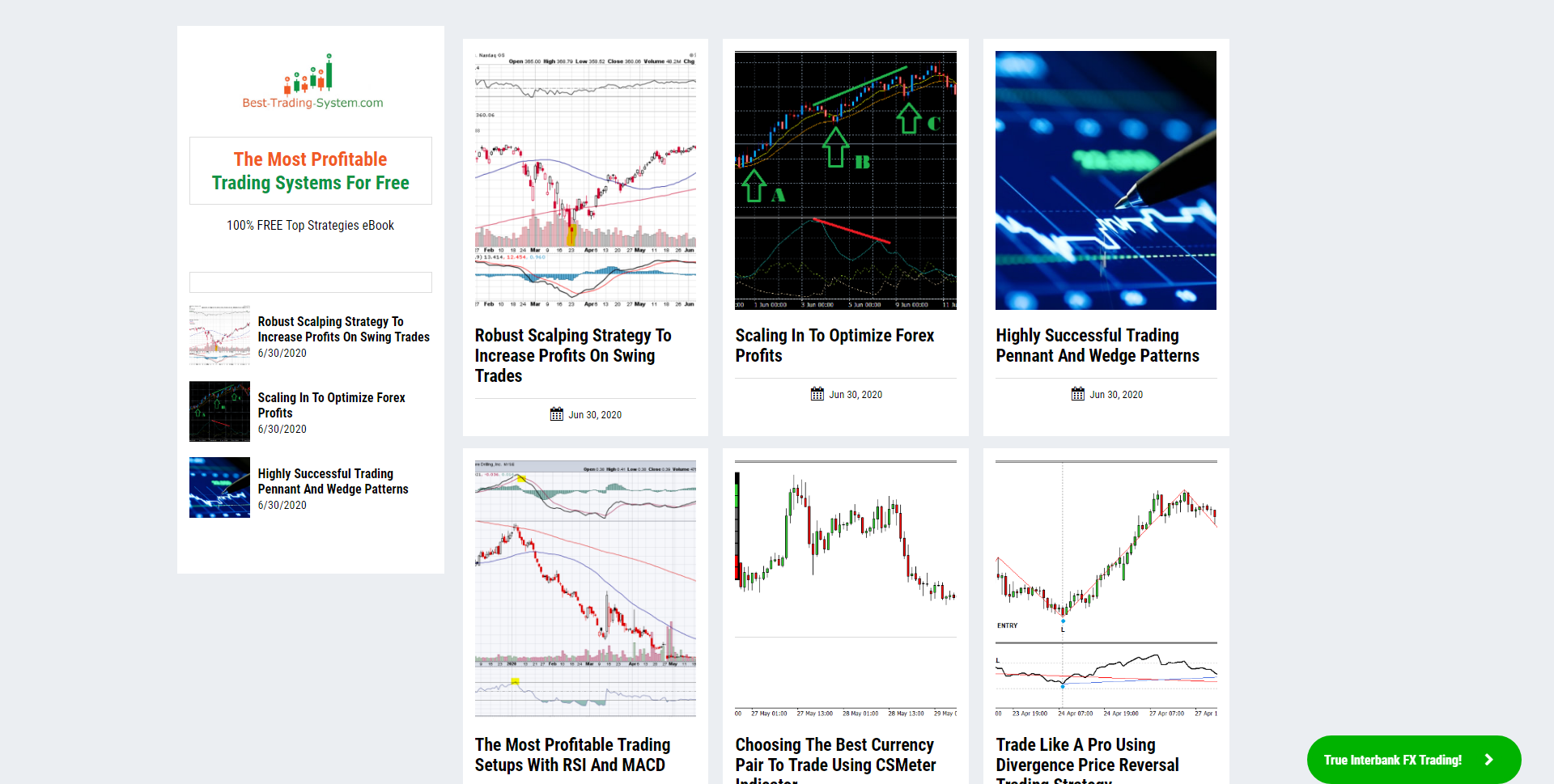 Best Trading System
Reviews
Release Date
January 10, 2018
Last Updated
March 10, 2019
License
Personal, Commercial
Browser Compatibility
Android, Brave, Chrome, Edge, Firefox, Safari, Safari iOS, Opera, Opera Mini