Iron Weebly Business Theme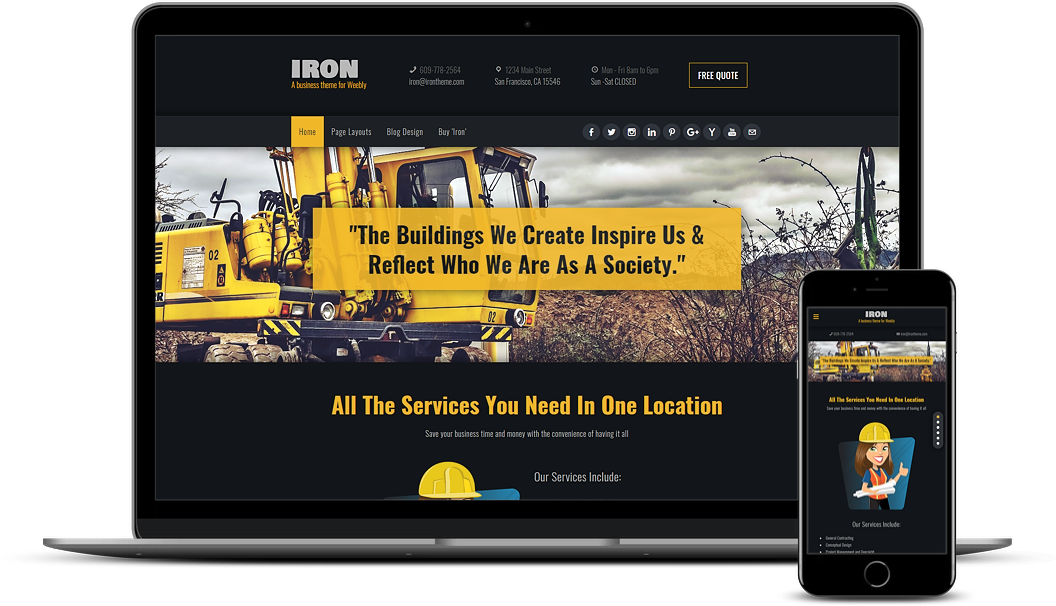 Iron
​​​A One Page Business Theme For Weebly
$29
You run a business and need a modern and bold online presence -- say no more! We've got Iron here, a simple, featured-packed one page smooth scrolling business theme for Weebly.
What is Iron?
​​​Simplicity, function, and a modern web design come together with Iron to bring out the best of your business for your greatest online potential with as little effort as possible.
Iron's got all of the important business features an online presence needs such as a video background, full screen slider, drag and drop footer, click to call and click to e-mail mobile links, business location and map blocks, slogan, and more. But since this is a Weebly theme, you also of course get Weebly 4's customizable header and "section" element.
Lastly, to make it truly Iron, the homepage impresses with a simple, smooth scrolling design accompanied by a static section indicator bar on the right.
Features
100% Responsive

Yes, Iron is 100% responsive.

Weebly 4's Customizable Header

Weebly 4's customizable header gives you a drag & drop banner area, which you can add a background image or solid background color to. You can also adjust the banner's height, or choose to make the background image parallax, reveal, or a video background (pro accounts only).

Weebly 4's Section Element

Weebly 4's section element allows you to create unique sections within the main content area. Each section is an independent drag and drop area that can be further customized with a background image or color, parallax or reveal effects, and a video background (pro accounts only).

Business Information Blocks

Within the header of Iron, and to the right of the logo, reside 4 business information blocks. 3 blocks contain a total of 6 "Click Here to Edit" texts for your business' phone number, e-mail, address, and hours of operation. 1 block is a drag and drop area for a call-to-action button.

Click-To-Call & Click-To-Email

The phone number and e-mail "Click Here To Edit" texts within the first business information block are convert to click-to-call and click-to-email elements that automatically appear at the top of every page layout on Iron's mobile version.

Slogan

To keep with your brand's image, located beneath the logo is a "Click Here to Edit" text box for a slogan. The slogan will appear beneath your logo on the desktop, tablet, and mobile versions of your site.

Accent Color

Iron comes with an accent color that you can choose under "Theme>Theme Options>Accent Color". The accent color is the color used by the slogan, scroll bar indicator, navigation parent menu items active and hover states, "Title" element, background for the "Title" element in the banner, links, forms (i.e., input boxes), call-to-action buttons, and the social media icons.

Slide In Banner Content

The content within the banner image on the 'iron' page layout automatically slides in from the left upon page load.

Video Background (Iron page layout only)

Iron comes with a highly customizable video background. Choose from the built-in jigsaw video background under "Theme>Theme Options>Video Background" or upload your own without touching a single line of code. The height of the video background can be adjusted individually for both desktop and mobile versions of the theme. Irons' video background come with 3 frenzied animated text elements that can be edited under "Theme>Theme Options>Automation [Editor Only]>Video Background Text Input".

Full Screen Slider (Iron page layout only)

Iron comes built-in with a drag and drop area designed to turn Weebly's "Slideshow" element into a full screen slider. Note: Since Weebly's "Slideshow" element is being used as a full screen slider, only the "slide", "fade", and "mosaic" transition effects work at this scale.

Theme Options

Theme options make it easy to customize Iron without touching a line of code. Iron's theme options include social media icons on/off switch, accent color, applying a video background, slider, Weebly 4's customizable header, or no header to the Iron page layout, both the slider and video background's desktop and mobile height adjustment, video background selection (i.e., Default (jigsaw video) or Custom (custom video background)), scroll indicator on/off switch, scroll indicator entrance effects (i.e., none, bounce, fade, rotate, and slide), and the 'Automation' drop down setup.

Social Media Icons

To the direct right of the navigation menu resides Weebly's social media icons.

Sticky On Scroll Navigation

Iron's navigation menu contains both the navigation menu and social media icons that stick to the top of the page when a visitor scrolls past them.

3 Page Layouts

Iron comes standard with 3 page layouts, a header, no header page layout, and its exclusive "iron" page layout (homepage

Drag & Drop Footer

Iron comes with a global drag and drop footer (includes free Weebly accounts). Changes made in the footer on one page will automatically reflect on all pages.

100% Support & Free Lifetime Upgrades

As a user of this theme, we've got your back 100%! Though our themes are rigorously tested (they really are -- sometimes it takes days to iron out the bugs), if any issues ever arise with this theme, simply send us a message! You'll also enjoy free upgrades to the latest version of this theme for its lifetime. When new versions are available, you'll be sent a notification and download link via e-mail.
Real Sites Created with Iron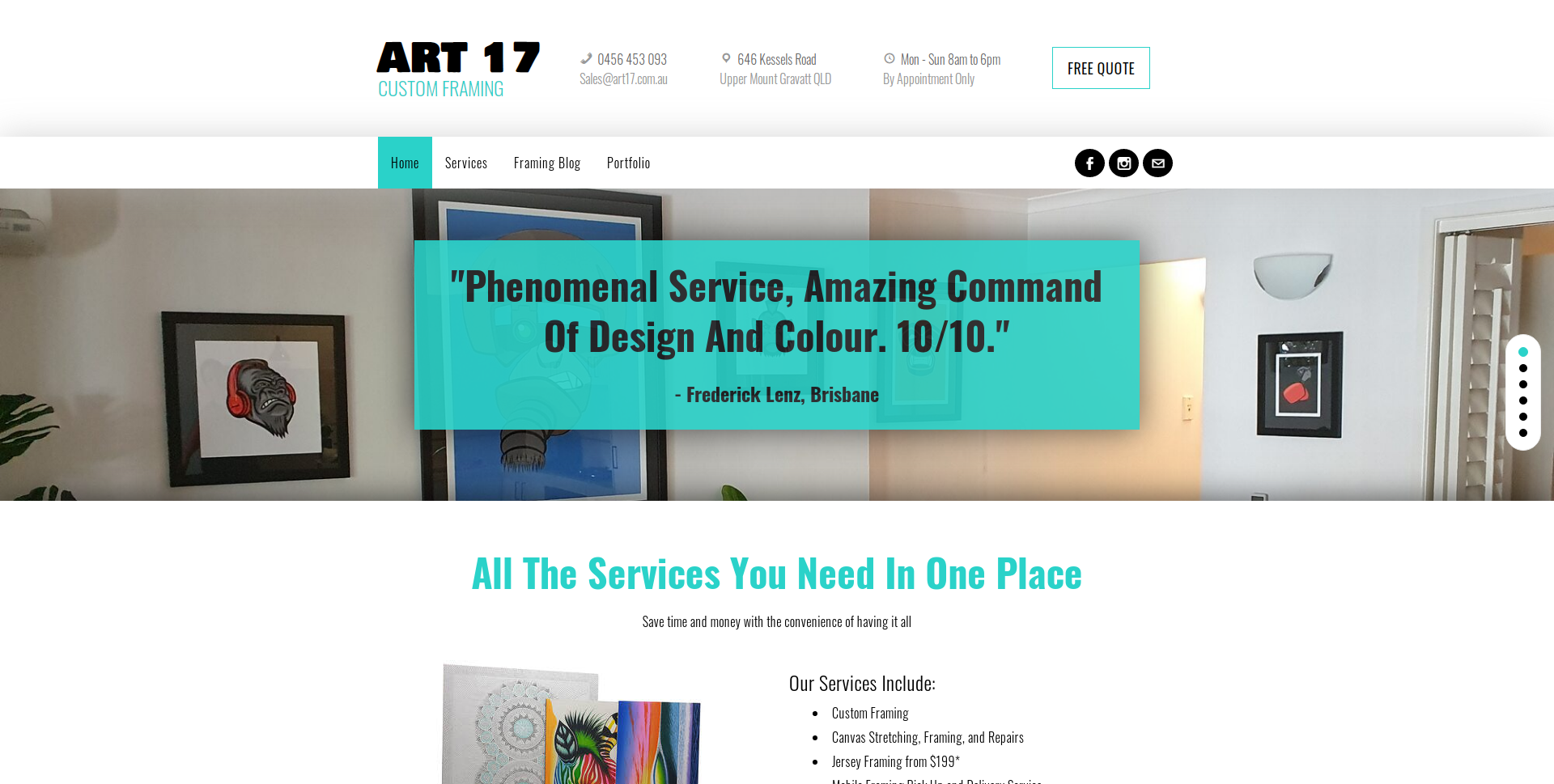 Art 17 Custom Framing
Reviews
Release Date
January 12, 2017
Last Updated
May 30, 2018
License
Personal, Commercial
Browser Compatibility
Android, Brave, Chrome, Edge, Firefox, Safari, Safari iOS, Opera, Opera Mini