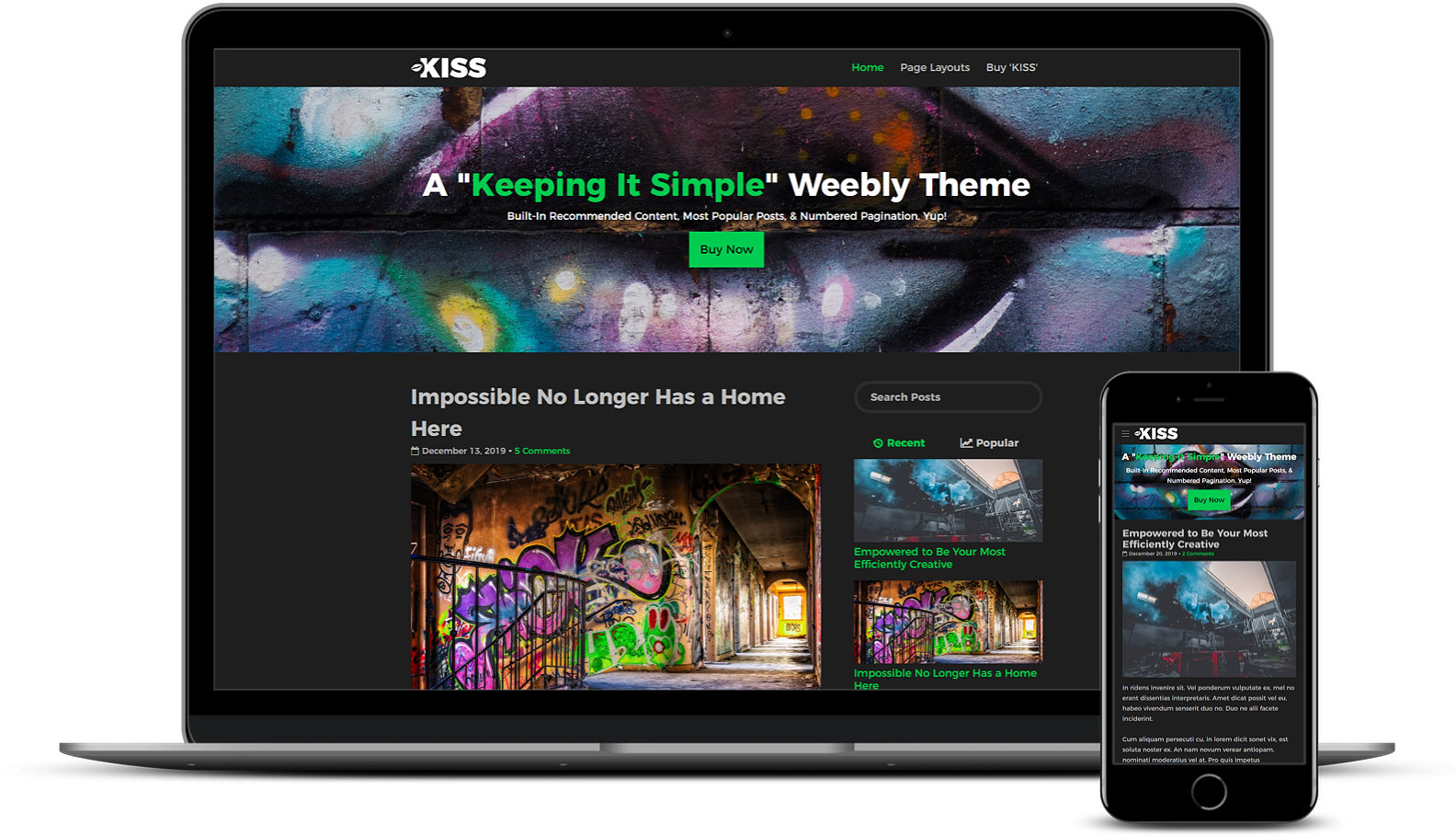 Kiss
A "Keep It Simple" Weebly Blog Theme
$24
"Kiss" is the answer for those who are tired of complicated Weebly blog themes. To this annoyance, we say "NO MORE"!
What is Kiss?
If you like to keep things simple, then boy do we have the perfect Weebly theme for you! Introducing "Kiss", our latest Weebly theme offering.
She's packed with Weebly features not yet even found in the Weebly App Center. A built-in blog post search? Yup! A recommended content widget? Oh sure! A most popular blog post widget? You'd better believe it.
All of these features and more require absolutely no input from you as the user of the theme. There is absolutely no code manipulation either. This is a smart theme, which means all of these features run and are updated instantaneously and automatically.
We really wanted to create a modern theme that anyone could use, but also have it contain all of the amazing features and functions a respectable blog theme should have. We're rivaling Wordpress themes here.
We hope you enjoy this next-generation Themezier theme. "Kiss" has set the precedent for future Weebly themes to come!
Features
100% Responsive

Yes, Kiss is 100% responsive.

Weebly 4's Customizable Header

Weebly 4's customizable header gives you a drag & drop banner area, which you can add a background image or solid background color to. You can also adjust the banner's height, or choose to make the background image parallax, reveal, or a video background (pro accounts only).

Weebly 4's Section Element

Weebly 4's section element allows you to create unique sections within the main content area. Each section is an independent drag and drop area that can be further customized with a background image or color, parallax or reveal effects, and a video background (pro accounts only).

Accent Color

Kiss comes with an accent color that you can choose under "Theme>Theme Options>Accent Color". The accent color is the color used by the active links, social media icons, call-to-action buttons, preloader, scroll to top button, and more.

Preloader

Kiss comes with a built-in preloader. A preloader is an animation visitors to your site will see to keep them occupied while your page loads. Once the page is completed loaded, the preloader will fade out. You can deactivate the preloader under "Theme>Theme Options>Preloader".

Light/Dark Mode

For modern times, Kiss comes with the option to easily switch between a light and dark version of the theme. You can switch between the light and dark modes by going to "Theme>Light or Dark".

Breadcrumbs

Kiss' breadcrumbs automatically appear at the top of every blog post for easy navigation between pages. You can deactivate the breadcrumbs under "Theme>Theme Options>Breadcrumbs".

Numbered Blog Pagination

Numbered blog pagination appears at the bottom of any main blog page and allows visitors to easily navigate between pages. Kiss' numbered blog pagination, from the current page, allows visitors to easily visit the next 2 or previous 2 pages, the first page, and the last page of a blog.

Recommended Content Widget

Kiss' recommended content widget will automatically recommend 3 random blog posts from your blog at the bottom of every blog post. You can turn off the recommended content widget under "Theme>Theme Options>Recommended Content".

Blog Post Search Function

Kiss' blog post search function allows visitors to your site to easily search all of the blog posts within a blog. You can turn off the blog post search function under "Theme>Theme Options>Blog Post Search". Note: This search function does not search all the pages of a Weebly site, just blog posts.

Recent/Most Popular Blog Posts Widget

Within the blog sidebar is a widget that displays both a blog's 3 most recent blog posts, as well as 3 of the most popular blog posts from that blog (most popular posts determined by total comments). You can turn this widget off under "Theme>Theme Options>Recent/Popular Posts".

Blog Column Flip

Instead of having the blog's sidebar on the right side, easily flip it to the left side under "Theme>Theme Options>Flip Blog Columns".

H1 Tags

Kiss' blog post titles are h1 tags. H1 tags are important for SEO because they help the search engines quickly identify the content within a page.

Theme Options

Kiss' theme options allow you to customize Kiss without touching code. These theme options include an accent color, site width adjustment, and activate/deactivate breadcrumbs, preloader, recommended content widget, recent/most popular blog posts widget, blog post search function, scroll button, and flip the blog's sidebar and main content area.

Sticky Blog Sidebar

The sticky blog sidebar sticks as a visitors scrolls up and down your page. This is useful for ensuring content within the blog's sidebar is always just a click away.

Scroll To Top Button

Kiss has a built-in scroll to top button that appears on all page layouts. The scroll to top buttons takes on the accent color and can be hidden under "Theme>Theme Options>Scroll Button".

2 Page Layouts

Kiss comes standard with 2 page layouts, a header and no header page layout.

Drag & Drop Footer

Kiss comes with a global drag and drop footer (includes free Weebly accounts). Changes made in the footer on one page will automatically reflect on all pages.

100% Support & Free Lifetime Upgrades

As a user of this theme, we've got your back 100%! Though our themes are rigorously tested (they really are -- sometimes it takes days to iron out the bugs), if any issues ever arise with this theme, simply send us a message! You'll also enjoy free upgrades to the latest version of this theme for its lifetime. When new versions are available, you'll be sent a notification and download link via e-mail.
Reviews
Release Date
December 12, 2019
License
Personal, Commercial
Browser Compatibility
Android, Brave, Chrome, Edge, Firefox, Safari, Safari iOS, Opera, Opera Mini