Red Weebly Education Theme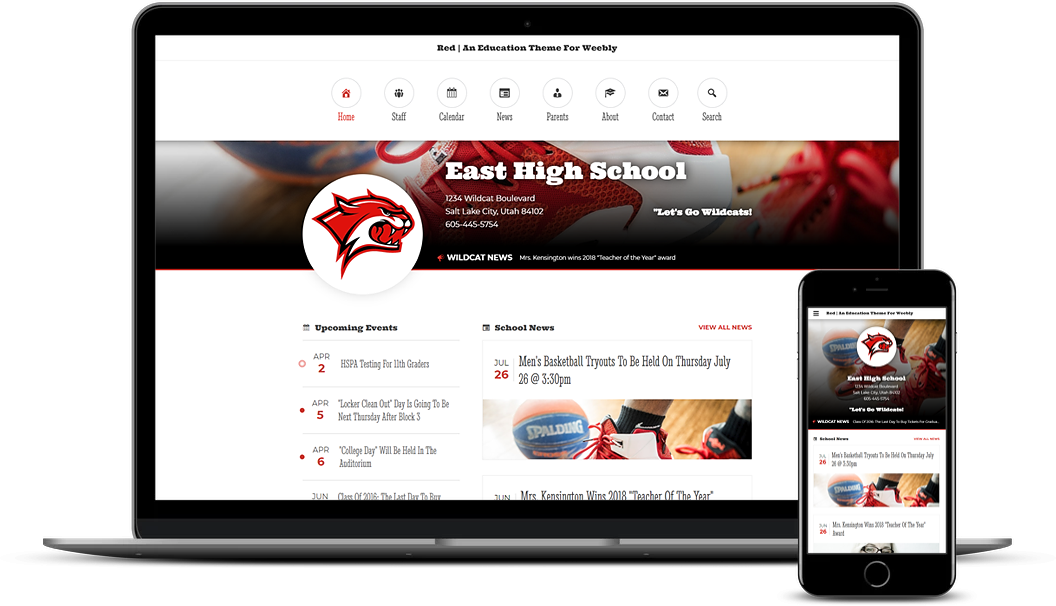 Red
​An Education Theme for Weebly
$24
Bring your school's website out of the Stone Age! Red is an education theme, built with features and functions specific to the purposes of a school's or college's online presence.
What is Red?
​​To get it right, you first need to know not only what has been done wrong, but what has yet to be done. First conceived in the early part of 2016, Red was THEMEZIER's intended answer for a solid and practical education theme for Weebly, a huge demand in the Weebly community.
Sure, we could have easily settled on a stock photo of a classroom, given Red a more academic-like name to portray what it really wasn't, and then called it a day, but that would have been easy. We instead took the hard way and researched many actual school and college websites to understand exactly what an educational institution's online presence must represent.
With the research done, we then went to work to combine this research with Weebly's infamously easy-to-use interface. This meant innovating features and functions never before seen in a Weebly theme, such as navigation icons that be changed without touching a single line of code. All in all, we're absolutely content and proud with how Red turned out, and yes, we think you'll be too!
Features
100% Responsive

Yes, Red is 100% responsive.

Weebly 4's Customizable Header

Weebly 4's customizable header gives you a drag & drop banner area, which you can add a background image or solid background color to. You can also adjust the banner's height, or choose to make the background image parallax, reveal, or a video background (pro accounts only).

Weebly 4's Section Element

Weebly 4's section element allows you to create unique sections within the main content area. Each section is an independent drag and drop area that can be further customized with a background image or color, parallax or reveal effects, and a video background (pro accounts only).

Accent Color

Red comes with an accent color that you can choose under "Theme>Theme Options>Accent Color". The accent color is the color used by the banner overlay, active links, social media icons, call-to-action buttons, scroll to top button, banner bottom border, and the calendar day.

Banner Overlay

Red's banner comes with a banner overlay that takes on the color of the accent color under "Theme>Theme Options>accent color". The banner overlay can be shut off under "Theme>Theme Options>Banner Overlay".

Search Toggle

Red's desktop version comes with a built-in search toggle. Clicking the search icon in the navigation will slide in the search box from the left side of the page. The search box is a drag and drop area, so you can add Weebly's "Search" element or any third-party search widget. The search toggle is Google Custom Search ready.

News Ticker

Red has a built-in news ticker that automatically displays the first 3 blog posts -- from a Weebly "Blog" page -- on the "header" and "red" page layouts. The news tickers can be hidden under "Theme>Theme Options>News Ticker". The news ticker's title can easily be changed with its "Click Here To Edit" text box.

Events Widget

On the "red" page layout is a built-in events widget. The events widget works by grabbing the most recent 5 blog posts tagged with the same category, inverts them, and then displays them in an attractive and interactive calendar-like display.

News Widget

On the "red" page layout is a built-in news widget. The news widget works by automatically grabbing the 6 latest blog posts from a Weebly "blog" page and displaying them in a modern design on the "red' page layout. By default, only the latest 2 blog posts are visible. The remaining 4 blog posts can be viewed by click the down arrow, in which they'll appear in a "bounce" animation provided by animate.css. Images within the news widget come with a built-in zoom in on hover animation.

Navigation Icons

Red's navigation comes with built-in icons for up to 8 parent menu items. The icons are provided courtesy of Dashicons and can easily be changed without touching a single line of code. The navigation icons can also be hidden under "Theme"Theme Options>Navigation Icons".

Mascot Avatar

On the "red" and "header" page layouts, you'll find hovering above the banner a drag and drop area for a mascot avatar. Changing the mascot avatar on one page will automatically reflect on all pages that use the "red" and "header" page layouts. Additionally, the mascot avatar will automatically appear to the left of the site title on the "no header" page layout. Every time the page is loaded, the mascot avatar will animate with animate.css' "tada" animation. You can also change the shape of the mascot avatar to either a circle or square under "Theme>Theme Options>Mascot Shape".

Scroll To Top Button

Scroll To Top Button

Map Area

Appearing on all page layouts directly above Red's built-in drag and drop footer is the map area. This area is a full width, global drag and drop area designed specifically for Weebly's "Map" element, but any Weebly elements can be added to it, if you choose.

Automation

The automation setup can be found under "Theme>Theme Options>Automation [Editor Only]. It allows you to setup the news and events widget on the "red" page layout, as well as change the navigation icons without touching code.

Theme Options

Theme options make it easy to customize Red without touching a line of code. Red's theme options include an accent color, a site width adjustment, navigation icons on/off switch, banner overlay on/off switch, mascot avatar shape (i.e., square or circle), news ticker on/off switch, scroll to top button on/off switch, and the "Automation" setup.

3 Page Layouts

Red comes standard with 3 page layouts, a header, no header page layout, and its exclusive "red" page layout (homepage).

Drag & Drop Footer

Red comes with a global drag and drop footer (includes free Weebly accounts). Changes made in the footer on one page will automatically reflect on all pages.

100% Support & Free Lifetime Upgrades

As a user of this theme, we've got your back 100%! Though our themes are rigorously tested (they really are -- sometimes it takes days to iron out the bugs), if any issues ever arise with this theme, simply send us a message! You'll also enjoy free upgrades to the latest version of this theme for its lifetime. When new versions are available, you'll be sent a notification and download link via e-mail.
Reviews
Release Date
September 8, 2018
Last Updated
May 13, 2019
License
Personal, Commercial
Browser Compatibility
Android, Brave, Chrome, Edge, Firefox, Safari, Safari iOS, Opera, Opera Mini